Etsy for Fall: 125 of my fall favorites!
11:01:00 AM
So like, I dig Etsy. It's flawed, sure (as highlighted by the now-retired
Regretsy
, if you're up for a laugh), but there's some fine vintage to be found! Unfortunately, Etsy is a sad place to navigate for plus size ladies, gents, and others. Vintage clothing is like that. But autumn fast approaches and we all deserve to look great, so I've compiled
a list of 125 (125!) awesome fall finds with a focus on plus size ladies
. And because this is
my
blog, after all, not a single item here is over $40! I tried very hard to find a variety of sizes, but unfortunately ended up very heavy in the 14/16 range. Vintage is like that. Etsy is like that. I don't think I got past a US 22W (but what I found is cool, so stick around!). Always always always check measurements. Always read the whole description. And hey, a little hint: "Oversized" usually means "this is plus size but I want to sell it to hipsters."
My fall is gonna be all about floral and denim. Um, all of my seasons are all about floral and denim. But also look out for bold, deep colors! I'm tired of beige and cream and plaid. Don't retreat into drab colors! Fall is a time to grab your most rich, saturated hues and stand out while the world turns brown!
JEANS
Jeans are the ultimate all-seasons garment, but that doesn't mean you can't mix it up this fall! This was undoubtedly the summer of high waisted shorts—and as a high waist obsessor, I see no reason not to carry this trend into autumn. Poke around thrift stores for high waisted jeans! And hey, mix up your washes! A light, bleachy jean will be rad and bright as the temperature drops. And as always, look for color!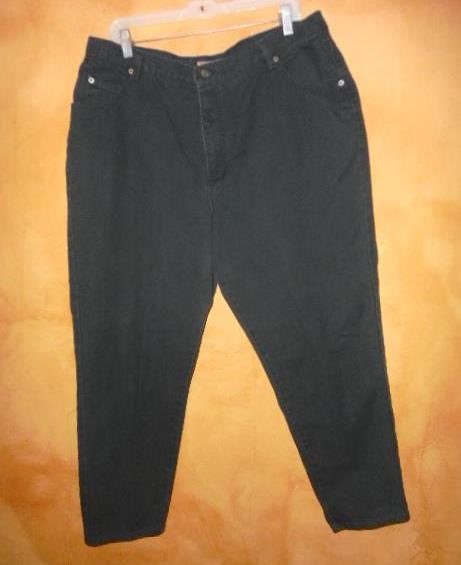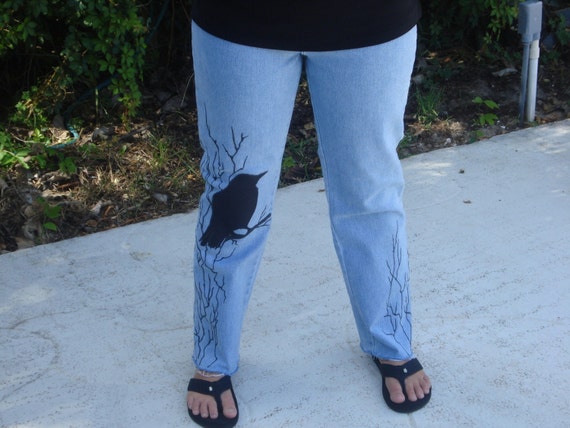 If you are crafty, PLEASE do something this cool with your pants! The seller says that these are a size 10, but big. I wouldn't recommend. them unless you're a small 14.
These aren't jeans, but I don't really have a separate section for cool pants. Try these with crop tops and avoid getting too cold! Size 18/20.
TOPS
SKIRTS
SWEATERS AND CARDIGANS
DRESSES
TIGHTS AND LEGGINGS
DENIM SHIRTS AND JACKETS
BLAZERS
BAGS
SHOES
HEADBANDS
HATS
SCARVES
How could we survive fall without scarves? Scarves take a boring outfit and make it wonderful. Here I've got the two most important varieties: Thin and silky, huge and chunky. Wear them with, well, everything!
SUNGLASSES
I know what you're thinking. But eye protection is very important! All year long! And where I'm headed (ahem, New England), fall can be an extraordinarily bright time of year. Rock some fab sunnies whenever you go out.
JEWELRY
This fall I'll be wearing long necklaces that poke out under all my cozy scarves. Gold tones, mostly. It depends on what I can find for a dollar on eBay. And as always, I am an advocate of big earrings. Go big or go—well, go big or don't wear earrings.
LIPS
Rock on, autumn fans. Rock on.
I can't promise I won't just buy all of this.